Wilmington Paranormal Research
Wilmington , NC 28403
Contact Name
Jessica P. Jackson
Phone
919-818-0155
Email
wilmingtonparanormalresearch@gmail.com
Alternate Email
jpj9911@uncw.edu
Website
appserv02.uncw.edu/studentorgs/organization.aspx?orgid=337
Facebook
www.facebook.com/wilmingtonparanormalresearch/
Founder
Christian Terry
Year Founded
2012
Number of Members
15
Areas Served
New Hanover County Area
Details
The Wilmington Paranormal Team is a diverse group of individuals at UNCW with a common interest in the paranormal. Our group contains both believers and skeptics to maintain a well balanced point of view. We use scientific methodology to prove or disprove paranormal activity. We investigate private homes, businesses, and places of historical significance. We volunteer our investigative services to anyone needing assistance, free of charge. Our mission is to restore peace of mind or to validate peoples' claims of the paranormal.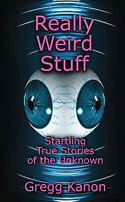 Available at: Outskirts Press
& Amazon